This turtle (a red-eared slider) was found wandering the St. Louis area in 1993 with a six-pack ring trapped around his mid-section.
Due to the constriction of his shell, some of Peanut's internal organs (his lungs, in particular) failed to grow properly. He was an easy pray for predators so he could not be released into nature.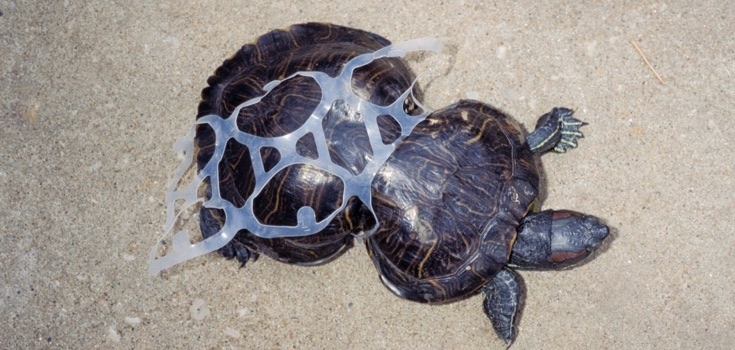 He has become the official mascot for Missouri's Department of Transportation and Department of Conservation's anti-littering effort, a program called No MOre Trash.
This is what Peanut looks like now:
Whether it's turtles in six-pack rings or squirrels in yogurt containers, what happens to our trash and how we dispose of it matters.
Here are a few other common household items to watch out for: any fishing line, or plastic lines, because animals can get tangledin them, not just in the water, but also birds or squirrels. And be mindful of balloons when they pop outside. Birds and other animals may ingest them and die.
Every little effort counts ! Remember to cut up plastic packaging in small pieces when you put them in the bin, and avoid using plastic bags or balloons.
More here: Upworthy-Peanut story